LIFESPAN Foldable TREADMILL TR1200IT
LifeSpan Fitness TR1200iT Treadmill with Full-Color digital display, a Bluetooth-interface, a tablet holder for tablets and smartphones and a holder for a water bottle. The treadmill is foldable. Ideal for sporty home fitness. It's compatible with the LifeSpan Bluetooth 4.0/ANT+ Heart Rate Monitor with chest strap and the Polar OH1 Heart Rate Monitor with Bluetooth 4.0. This model differs with TR2000iT by no audio speakers, and has non-touch display, altough all important features are still there.
Why LIFESPAN Foldable TREADMILL TR1200IT?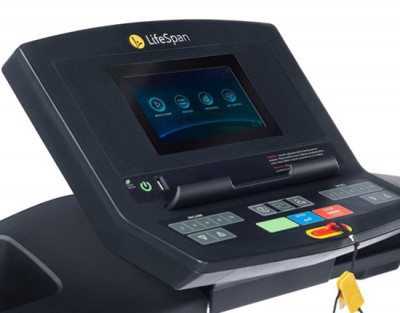 7" TFT Non-touch screen
The full-color screen console has large console buttons to make it easy for you to start your workout right away. With the 3 dashboard screens you can choose your preferred workout view to watch your training results. The console has a vibrant, full-color 7" display and built-in Bluetooth to sync your workout results with ease. The display has simultaneous readouts, multiple training programs and an easy-to-navigate design.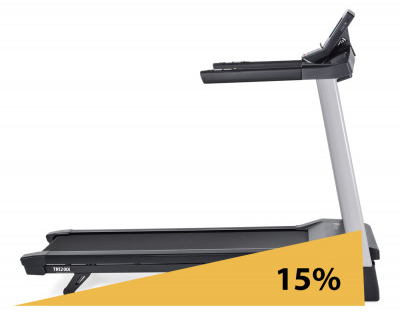 Incline
The best way to improve your level of fitness is with incline training. The TR1200iT has an incline of 15%. To train incline you lift the front side of the treadmill with the incline buttons at the console or armrests. Incline training simulates walking, jogging or running uphill and effectively trains your leg muscles, calves, hamstrings, quadriceps and abdominals.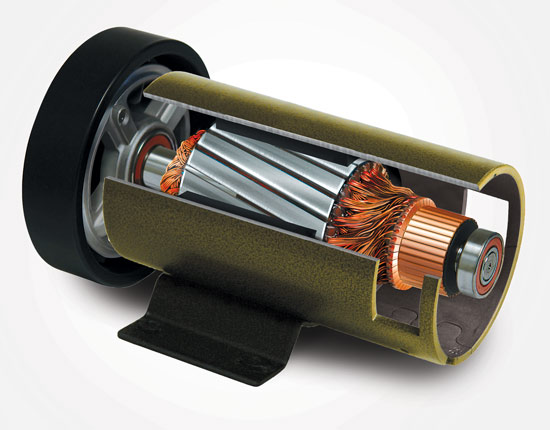 Strong motor
The motor is the beating heart of a treadmill and that's were LifeSpan makes a difference! The motors are designed to perform and built to last. The TR1200iT's powerful and long-lasting 2.5 hp continuous-duty motor can easily withstand even the most intense daily workouts, year after year. We have so much trust in the quality of this motor, that we give you a life long warranty!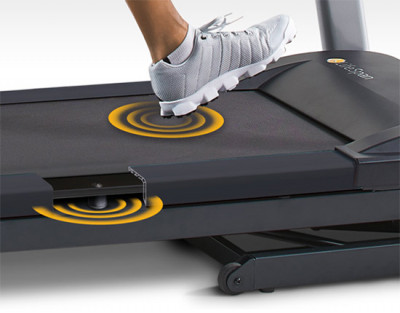 Run comfortably
The large 51 wide and 142 cm long running surface perfectly matches your favorite style of exercise, whether it's walking, jogging, or running. The robotically-welded, all-steel frame is especially designed to simulate real-world conditions over miles of use. You don't have to compromize on comfort because the deck is supported by 8 compression shock absorbers to provide safety and cushioning for your knees, back and joints.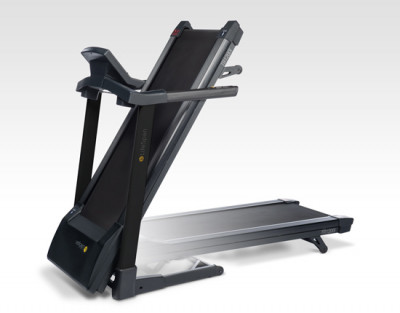 Folding for freedom
The last thing you need is for your treadmill to take up a lot of space. That's why the TR1200iT is equipped with the innovative EZfold. This technology utilizes a hydraulic shock to easy and conveniently fold the deck up and out of the way. Simple to lift and easy to lower. With this nice space saving design your treadmill will never be an obstacle when not in use anymore.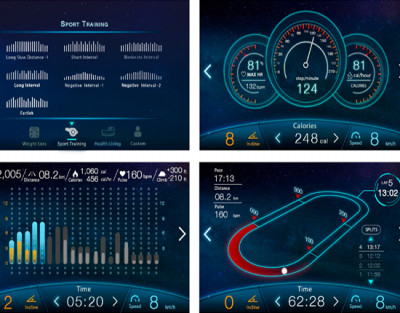 Varied training programs
The treadmill has a 7-inch Full-Color digital display with three dashboards, at which you can set up 55 training programs, consisting of two heart rate control programs and fifteen healthy living programs, twenty-one sports training programs and fifteen weight management programs based on three levels of intensity and two manual user programs. The training programs have been put together by renowned exercise physiologists, with the aim of improving your health, burning calories, losing weight and getting fit.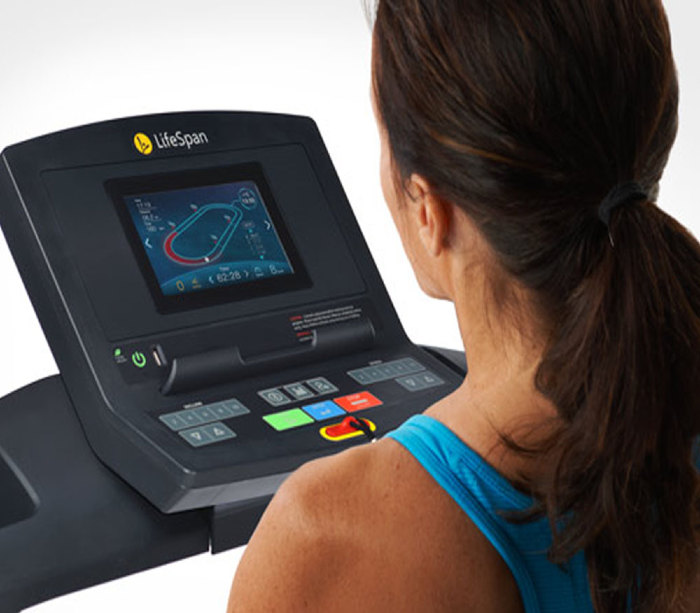 Bluetooth interface, compatibility with tablets and a tablet holder
With the Bluetooth interface you can connect the treadmill to the LifeSpan Club app and synchronize and view your training results. The TR1200iT is compatible with tablets and has a tablet holder, so you can use your training app, surf the internet or watch your favorite movie or series while exercising. This makes your training a lot more fun and time will fly by.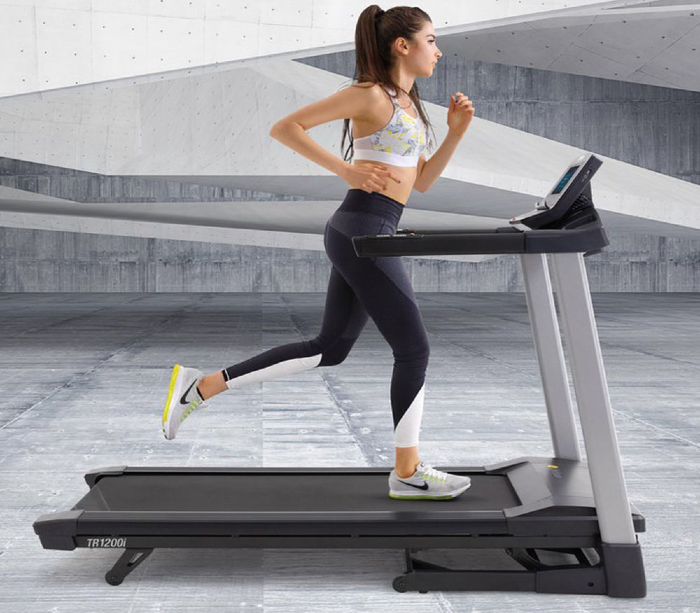 User friendly treadmill for intensive home fitness
The Lifespan TR1200iT is the perfect treadmill for intensive home fitness. With the Bluetooth interface you can connect it to the LifeSpan Club App and synchronize and view your training results on your smartphone.