ICG IC4 Excercise Bike
Made for cycling enthusiasts - IC4 combines modern design with high-grade mechanical components, making it the best premium bike in its class. The belt drivetrain and the magnetic brake system is virtually maintenance free and also provides a superior ride.
Why IC4 Excercise Bike?


Magnetic Resistance
Magnetic resistance rapid resistance control - The resistance dial gives the user tactile feedback and also allows quick adjustment. Located directly beneath the handlebar, the 300-degree dial is easy to reach from all riding positions.

Ergo-Formed Handlebar
Advanced ergo-formed handlebar - Featuring impressive curves and soft PVC, this wider bar provides larger users more support, features an integrated devise tray, additional Time Trial bar-ends, and central ride-easy position.

Off-Set Frame
High performance off-set frame geometry with 155mm Q-factor - The off-set frame design provides a perfect geometry enabling a wide range of bike adjustments. A Q-Factor of 155mm makes the Indoor Cycle feel more like a real bike. The benefits include increased safety, comfort, and efficiency in each and every pedal stroke.

Performance saddle
Comfort performance saddle - The comfort unisex saddle has a sleek design, that enhances the rider performance and overall comfort. Designed with an opening in the heart of the saddle that relieves pressure on the bodies more sensitive parts whilst riding.

Poly-V Belt Drivetrain
Poly0V belt drivetrain - The drivetrain equipped with Poly-V belt is capable of transferring extreme levels of torque smoothly and its 1:10 gear ratio generates an incredibly fast flywheel speed. Requiring less maintenance, belts save the club owner money and decrease liability. They have fewer breakdowns and make less noise.

4-way adjustments
Superior vertical & horizontal bike adjustments - Superior 4-way adjustments (saddle height, saddle fore/aft, handlebar height, handlebar fore/aft) ensure a finely-tuned fit for all riders. The handlebar integrated user assist technology makes adjustments easier, safer and faster. High-grade aluminum seat and handlebar posts with protection inserts reduce weight and are more durable for the club owner.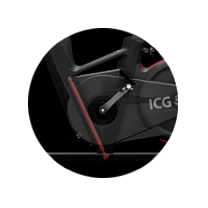 User Assist Adjustments
Adjustment has never been easier! ICG's user assist handlebar post technology reduces the handlebar weight to minimize setup challenges. A system that provides a maximum user comfort.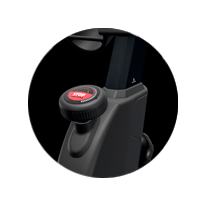 Magnetic Resistance
Maintence free magnetic resistance! ICG's magnetic resistance is engineering at its best. A service-free technology that provides the user a greater resistance range and reduces operational down time and cost.
Compare for yourself